In the sport of windsurfing, the wind, the sea and its waves create a unique and unrepeatable playground, a liquid field of a constantly changing shape. There, where each wave is never exactly the same as another, Matteo Iachino whiz on the surface of the water with strength, technique and speed. Among the waves he expresses himself, tears them apart, supports and unmasks them, plays with them and merges with them. Thirty-two years old, from Savona from Albisola, he is the greatest blue representative of the world surfing scene: the first (and only) Italian to win the PWA Slalom world champion title, his name is written in the small list of planetary windsurfing legends, monsters sacred of this sport such as Naish, Albeau, Buzianis, Dunkerbek and Pritchard. Crowned "Prince of Speed" thanks to his triumph in the Speed ​​World Cup 2021, he also boasts a continental title and six Italian Slalom and Foil titles, he has been three times vice-world champion and for nine years has been in the top ten of the Slalom World Cup.
In Tenerife, where he lives and trains, he founded the Windsurf Center "Surf Hub Tenerife". It is on the waves of the Atlantic that Matteo is preparing a season full of commitments and competitions, with one eye he is already looking at the Paris 2024 Olympics and this summer he will also try to achieve a great feat at sea with the Italy-Corsica windsurfing crossing. . The athlete on the Alphazer team tells us how his passion was born and how he lives the sea and his sporting specialty every day.
When did windsurfing come into Matteo Iachino's life?
"As a child I used to do competitive swimming. At the age of eight I tried windsurfing for the first time thanks to my father, who had been practicing it for some time. It literally struck me, two years later I took a course and from there it all started . I decided to stop swimming and just do that. My mother wasn't very convinced at first. My father started teaching me a little better and so I started getting serious. I grew up in the sea, doing this sport. it has always been my dream and I was lucky enough to turn my passion into a job ".
What is the true essence of this sport?
"Freedom. The sea gives you incredible emotions and this sport puts you in a dimension that often fails in our daily life. In the sea there are no walls, you don't depend on anything, go fast and have fun. Nobody sees you, nobody hears you, you are free to go wherever you want. And all this is done in nature, driven only by the wind, with zero impact without noise and artificial energy sources. The only thing you are looking for are the conditions ".
Tell us better ...
"You don't choose when to do it, but the weather conditions. It is different from other sports where for example you decide to take a racket or a ball and go and play for as long as you want. But that makes him even more fascinating, he develops a healthy addiction. You depend on the elements, and at the same time draw energy from themselves. Feel the constant need for those feelings of freedom and adrenaline. You spend your time looking at the sea, if there are waves and if there is wind, studying the forecasts to find the best possible conditions for going out to sea. I never get tired of being in the water. You are waiting for the right condition, the one you need to be able to have fun and express yourself, to be free and to experience those sensations that you would not experience in any other way ".
What is the life of a windsurfing professional like?
"Challenging but exciting. Windsurfing is not only a sport, but also a way of life. It changes all your habits, it influences your daily priorities. Hard workouts. Always traveling with lots of equipment to take around the world, from Korea to Japan, from the Canary Islands to Denmark. It is not always easy, especially being away from home very often, but the passion and the results are paying off ".
How do you find regularity in training with all these variables?
"You can't plan anything. Training in the water is central and you depend on the conditions. The dry preparation moves according to the workouts in the water, where I train 4-5 days a week. There is no typical day or week. The certainties are represented by four weekly sessions to be carried out in the gym, which fit together dynamically according to the forecasts and the preparation I can do at sea. Staying trained and focused is not easy and the key is always the passion for what you do ".
The mental aspect also plays a decisive role in competitions ...
"It is very important. In the race, whoever is the best technically does not always win, but whoever is always in 100% condition, even mentally. The head must be trained to face the variables and make up for the continuous change. You can train in the water by playing world cup heats every day for 15-20 times and acquire certain automatisms that allow you to improve on a technical level, but what is mentally difficult to manage in competitions is the fact that in competitions you never know exactly when you will be able to compete: you start the day with the forecasts that do not give wind and think that you will not compete, then suddenly the low pressure shifts, the wind enters and an hour later you are called into the water. It is destabilizing, but in that moment you have to be at the top, ready to stay on track.
The off season is in the closing credits: what sporting goals are you working on for the upcoming season?
"My goal, as usual, is to give my best in all competitions. If you work as hard as you can and perform at your best when competing, you will likely be successful. Obviously I want to win, but let's take it one step at a time. The season will start in Riva del Garda on May 16 with one of the 2022 top events, the European Championship of iQFoil, the new Olympic class of Paris 2024. The focus will always be on the next slalom world cup, with many stages already confirmed that I they will see involved in Israel, Denmark and Japan, but I will also compete in the world speed championships and the Italian championships. Then next year there will be the competitions for the Olympic qualifications ".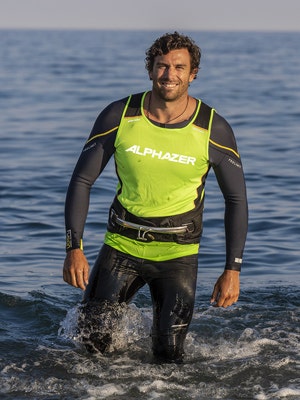 Official? Is Paris 2024 one of your long-term goals?
"I confirm. I am working to qualify for the Paris 2024 Olympics. I will compete with the Italian Yacht Club, the oldest sailing club in the Mediterranean. It is an ambitious project, and the introduction of the new iQFoil Olympic class fascinates me: even though I come from a more 'action' discipline, this is a combination of traditional slalom, which is my specialty, and upwind and stern as in a sailboat. I have also contributed to the development of the materials that will be used in Paris and Los Angeles, and for the first time perhaps the world of Olympic windsurfing will be closer to the real windsurfing that people who practice our sport like. I like to imagine myself at the Paris Games, but I will not neglect the professional part, which has led me to be who I am today and to live off windsurfing.
And there is also a great sporting enterprise on the agenda ...
"By September I will try the Italy-Corsica windsurfing crossing, something I have never tried before. On the occasion of this undertaking I will launch my project entitled "One Sea for All" aimed at raising awareness in respect of the environment and the sea. A man aboard his windsurf pushed by the wind and a great goal: to reach the Giraglia lighthouse. If only one person can cross the entire Ligurian Sea in a sustainable way, why can't each of us do more for the environment every day? We have only one sea and we all have to take care of it ".
To become one of the world leaders in specialties, Matteo must make numerous sacrifices and follow a diet and supplementation aimed at performance and maintaining a healthy weight:
"In preparation, my plan is five meals a day. I almost always wake up at dawn, and I make myself some Alphazer peanut butter pancakes for breakfast . Rice-based lunch with chicken and boiled vegetables, which I take with me to the beach, and in the breaks of water workouts I take a large shake of Alphagel Power , my favorite product. I have a mid-afternoon snack with 2 Alphazer dried fruits bars and an egg protein shaker . Per dinner I eat fish or chicken breast with salad. I also eat meat. When I work out in the gym, I use Alphazer Glutamines in the evening before going to sleep: a powdered spoon before going to bed promotes muscle recovery during the night and also helps me sleep better ".